GRINDERS DELIVERS A BETTER COFFEE EXPERIENCE TO ALL AUSTRALIANS
From a single storefront in downtown Melbourne, we have grown into a trusted quality roaster with cafes and restaurants across Australia.
We continue to embody the same ethos since the start; a pioneering spirit, connection with our community and a passion for great quality coffee.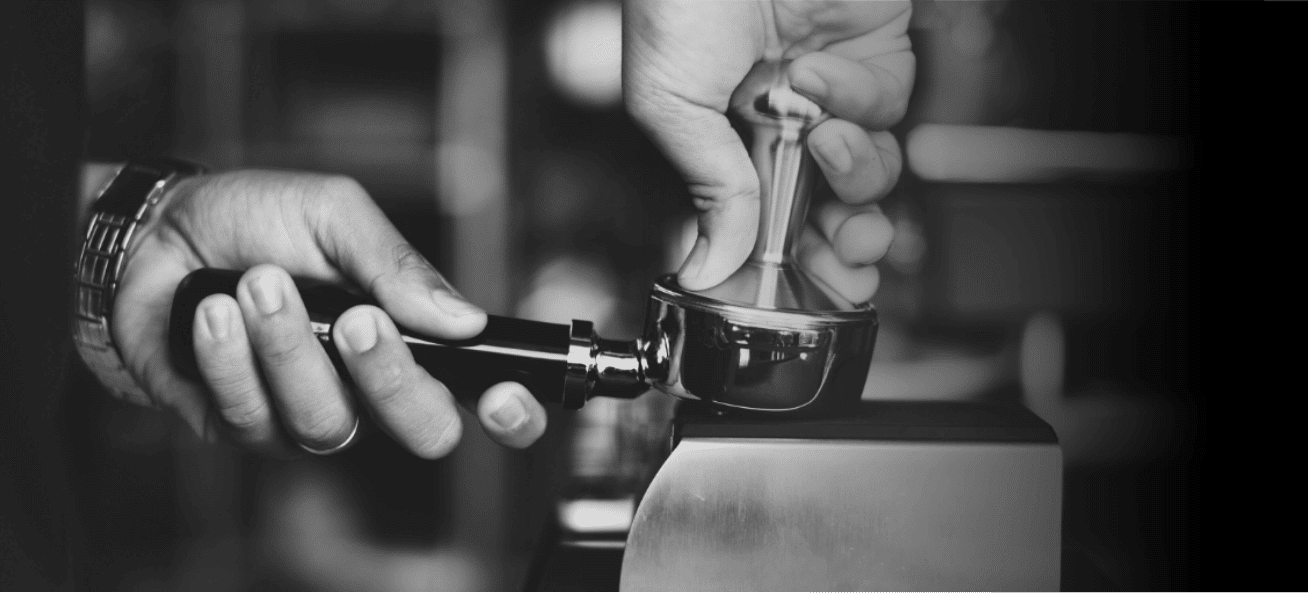 Get the latest on what we do and how we do it! Because we absolutely love what we do.
Roasted daily in Melbourne | Free delivery for orders over $60
From crop to café to cup, we believe in a better coffee experience for everyone. Find out more about our work with coffee growing communities, our customers and suppliers, to create a sustainable future for the coffee industry.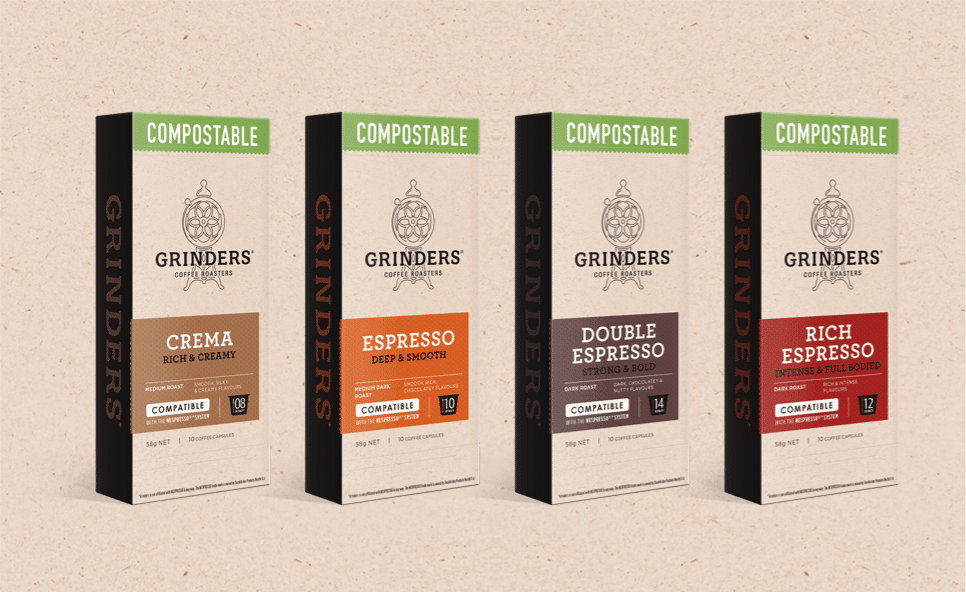 A CAPSULE THAT'S BETTER FOR THE PLANET* 
Grinders now offers you our great tasting coffee to enjoy…with a more environmentally friendly touch. The capsule, lid and coffee grinds used in our range of Nespresso 'compatible' capsules are now all organic waste and certified for industrial composting
Delivering great coffee with unique single origins
The Grinders single origin program will see limited runs
of different single origins with distinctive flavours allowing cafes to serve coffee in a different way; like brewed as filter.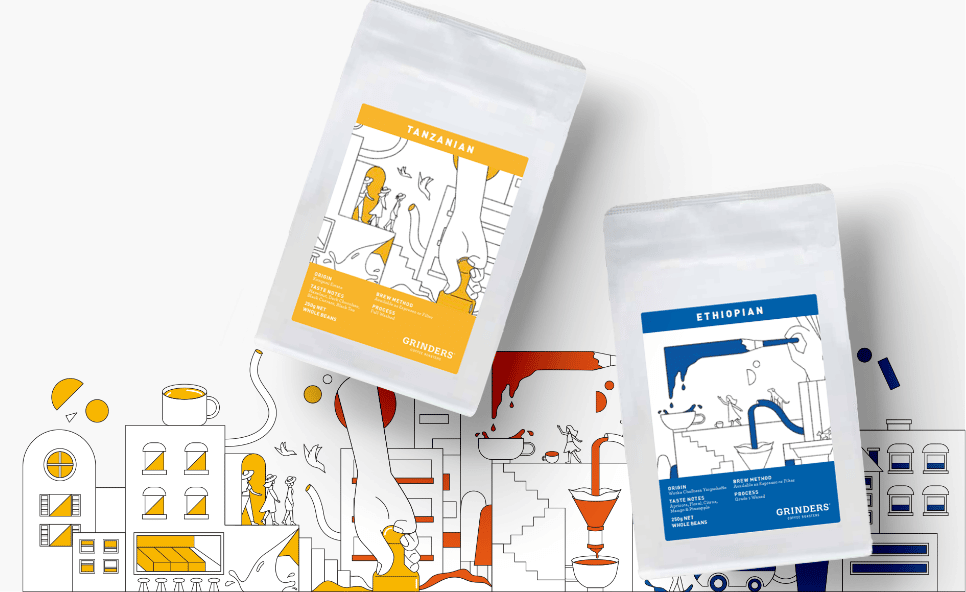 We truly value the partnerships we build with businesses. Our partners have been trusting us since 1962 to deliver a better coffee experiences and help them thrive.
From cafes & restaurants, to offices, hotels & accommodation, we have a tailored solution to suit the needs of every business type.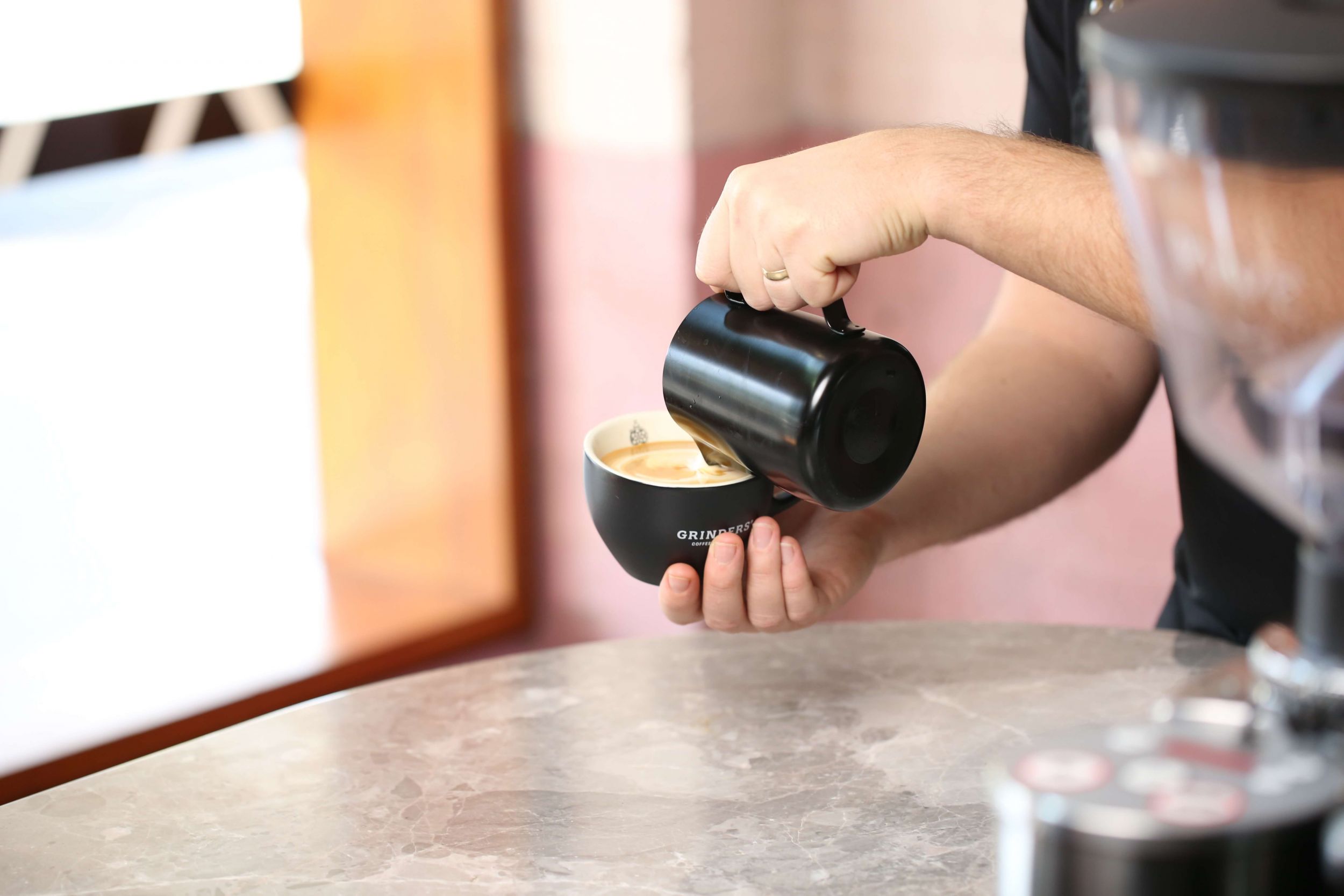 Meet Vicky of Garden Espresso In the hot seat for Barista of the Month, we talk to Vicky, Head Barista at Garden Espresso in…
26/07/2022
Consumer
I ordered my Grinders coffee capsules online at 12 noon yesterday, , here in Canberra and it arrived at 10.30am today! That's less than 24 hours q turnaround time, despite covid hold ups!! Truly amazing as always!!
Last delivery was fast but this must be a record surely???
Anyway thank you so much for such great service!
Customer Care
I have been with grinders for over ten years, every cafe we have we been with grinders and loved grinders coffee in general. Support has been fantastic. Pretty straight forward. Love the bean, knew the bean, happy with service.
Best part of our partnership with Grinders is the Territory Manager Brock – he is 15/10. Been with us from early days. Training side very very happy, all credit goes to Brock. Love the smoothness of the coffee (source blend), it's not bitter and worked with source before.
Consumer
You made my day.
I asked my wife to purchase some more capsules and she found the Grinders site easy enough. Easy menu and the order was placed ~ 10am Tue morning. OMG, the next day ~ 11am it turned up.
Awesome guys, hats off to the Grinders team.
CONSUMER
Awesome. WOW, what service excellence! I ordered on the 26th and it arrived on the 27th.
Thank you so much for the excellent service. I will not hesitate to tell my friends
Consumer
It's really important to me that the coffee I drink is ethically sourced. So loved seeing your partnership with Rainforest Alliance. Bravo!
P.S. Rich Espresso Beans also makes a damn fine short black!
Consumer
Hi there, Have just received the order I ordered only yesterday. As usual your service is second to none. As you can see from your records my wife and I have been purchasing machines and pods from your company over many years and we have always had the best service form you. Keep up the good work. I will be in touch when supplies are getting low again.
Consumer
Always delivered on or before time - Absolutely fabulous coffee beans = never disappointed
Consumer
Super fast! Drinking espressos martini's in the same week of order!
Consumer
I was amazed at how quickly my item came, the next day and it had to come from interstate! The customer service was terrific and my item works perfectly. Thank you to all the people at Grinders who helped this to happen. Very much appreciated.
Consumer
And I will also say that shopping online with Grinders is always great, and the order turnaround time is brilliant. Thanks again.
Consumer
Coffee was Delivered ahead of time I was not home the package was left in a safe place. Grinders kept me in the loop of what was happening with the delivery which was great, thanks Grinders Coffee.
Consumer
Great delivery a day earlier than expected....greatly received